The Best Meal My Grandmother Ever Made
My grandmother Marie Elizabeth (Rebensdorf) GESCH is who I think of for cooking. I didn't see my grandmother Jenny Phoebe (Gunter) SHAVLIK all that much, mainly on holidays. The only thing really special that I remember from Grandma SHAVLIK is her Poppy Seed rolls which is probably a recipe she got from her Mother-In-Law, Apolina (Krska) SHAVLIK.
My Grandmother GESCH was everything, for me, that encompasses 'Grandmother'. We would often take her for rides on Sunday and she went on vacation with us on two seperate occasions. Saturdays she would cook lots of Cadoval (potato) Veriniki and Runza's, especially if she knew we were coming.
A roast chicken or German Fresh Wurst (ring sausage cut into lengths then in half (but left connected) and fried) was often served with the Cadoval Vereniki and then the extra Vereniki dough was used to make noodles for homemade Chicken Noodle Soup.
No one could make these delights like my Grandmother, Marie (Rebensdorf) GESCH. The photo is of my grandmother and my father HARVEY GESCH.
The whole point of this post is to be interactive! Please tell us about your grandmothers favorite meal!!
Recipes Follow
Potato Vereniki
1 egg
1 large onion
2 cups flour
1/4 cup melted butter
1/2 cup water
6-7 medium potatoes
pinch salt
Mix flour, water and salt in a bowl to make dough, knead and set aside to rest.
Boil potatoes
Melt butter in skillet and saute onions.
Add half the onions to the potatoes, add salt and pepper to taste (we like pepper!)
Take a small ball of dough and roll out to form a small circle-about the size that fits in the palm of your hand.
Put small spoonful of of potato mixture in the center of the circle - press sides together around the potato, seal edges.
Drop each vereniki into boiling water for about 10 minutes. Lift out with spoon.
Served with more melted butter and onions on top with lots of sour cream.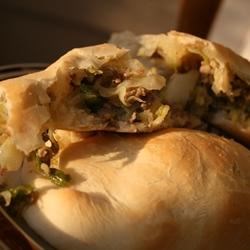 Runza Sandwich

– Also called Bierocks in Kansas, are a yeast dough (a bread pocket) with a filling of beef, cabbage (or sauerkraut), onions, and seasonings.
They are baked in various shapes like half-moon, rectangle, round, square, triangle, etc. The Official Nebraska Runza is always baked in a rectangular shape, and the Bierocks of Kansas are baked in the shape of a bun.
Both the Bierock and the Runza sandwich have German-Russian roots going back to the 18th century. This unique recipe was passed down from one generation to the next, eventually finding it's way to the Midwest of America and particularly to the states of Kansas and Nebraska (but with different names). Originally the Bierocks were served to the field workers for lunch.
If you travel in Nebraska, you will find eateries called "runza" - sometimes a place name, often the specialty of the house. In 1949, Sarah "Sally" Everett and her brother, Alex Brening, opened the first Runza Drive-Inn in Lincoln, Nebraska. The trade name and trademark of Runza Restaurants now belong to Donald R. Everett, Sarah's son.
My grandmother HATED their sandwiches which are a far cry from her recipe. T

heir version is okay — but nothing quite compares to the way my grandmothers made hers. (This recipe, however, is

NOT a copy cat for Runza Restaurants recipe at all

. This recipe is much older and much better – it's what grandmother made on a Saturday afternoon. If you are looking for a copycat recipe, you'll have to look elsewhere. )
Original Runza Recipe
2 pound ground beef
1 large onion , chopped
Salt
Pepper
1 Medium Cabbage, chopped
2 batches of bread dough
Saute onion in a bit of oil until just translucent. Add hamburger and saute until no longer pink. Season with salt and pepper (lots of pepper). Drain away the grease, and return to the pan. Cover the mixture with the shredded cabbage and cook until the cabbage is done. Stir occasionally. This could take about 45 minutes or so.
Using an egg-dough recipe, roll small balls of dough thin to make a 5×5 square. Put about 1/2 cup of cabbage mixture in center of square and seal closed. (See note below). Place seal side down on a parchment lined baking sheet (or a lightly greased sheet). Allow these to sit, covered lightly with a tea towel, for about 20 minutes – so the dough can rise for the second time.
Bake 20-25 minutes at 350 or until lightly golden brown.
A side note: Use a slotted spoon or similar when filling the dough to allow the cabbage/hamburger mix to be dry'ish. You don't want these "juicy" or the bottom of the roll will be doughy and wet and not cook properly.