Let's celebrate our Welsh Heritage today! I first tried these marvelous little cakes years ago at the Nebraska State Fair and have wanted to make them ever since. So, when a friend said she'd come to tea I knew what I wanted to make! Watch out these little gems are addictive!
I found several sights on the internet that shared the hardships of working in the mines during the 19th century life in the small country of Wales, that is situated on the coastal edge of England, where there are more castles per square mile than any other country in the world.
Mining was the major source of income during much of the history of Wales from 78 AD when the Romans moved in to current times. Coal has been the major export over time but other metals including lead, tin, copper and even gold has been mined in the small country of Wales. Mine owners were often cruel taskmasters as expressed in the book and subsequent movie, HOW GREEN WAS MY VALLEY, 20th Century Fox, 1941. The miners spent many hours in the mines without coming out so their lunches and snacks not only had to be sent down in the mines with them but they had to be kept safe to eat. Welsh Cakes or Welsh Miner Cakes could be carried down into the mines in the men's pockets and retrieved when nourishment was needed.
Welsh Miner Cakes
This recipe adapted from http://www.noshcookbook.com/2011/06/low-fat-welsh-cakes-recipe.html
Pichture from http://planetden.com
2 cups all-purpose flour (or gluten-free flour and 1 teaspoon Glucomann or Psylum Seed Powder- if you don't have either of these use xanthan gum)
1 1/2 teaspoon baking powder
1/2 cup sugar
1/2 teaspoon mixed spice (I used Pumpkin Pie Spice)
1 stick of butter, melted
1/3 cup whisked eggs and 1 tablespoon milk
1/3 cup currants
Preheat your cast iron skillet or griddle to med-low heat. Make sure it's throughly heated. If it is not properly seasoned brush with oil.

Mix all the ingredients. It should have the consistancy of a cookie dough. Roll into balls.

Flatten out on a floured surface (use the bottom end of a glass). Transfer to pan and cook for 3-4 minutes (watch that they don't get to brown). Flip and cook other side for the same time. If you temp is not low enough these won't cook in the middle.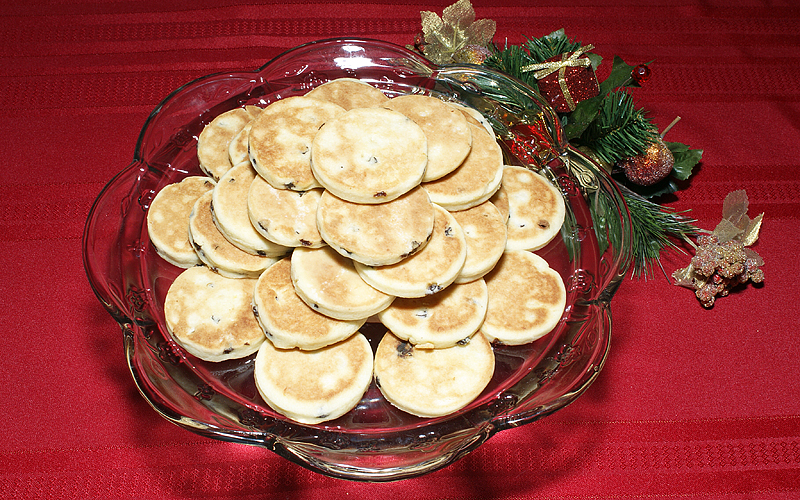 Welsh Cookies
This recipe makes a lovely cookie but probably would have never stood up to the miners pockets.
1 1/2 cups flour

(substitute GF if needed-add 1/4 teaspoon Glucomman or ground psylum seed and 1/2 teaspoon xanthan Gum if using GF Flour)
1/8 tsp salt
1/4 cup sugar
1/4 cup butter, room temperature
1/4 cup lard (don't substitute)
dash Nutmeg
1/4 teaspoon lemon zest
1/4 teaspoon vanilla
1/4 teaspoon baking soda
1/2 teaspoon baking powder
1 egg
Milk if needed
1/4 cup currants
Cream Butter, Lard and Sugar until light and fluffy, beat in egg, nutmeg, lemon zest and vanilla until completely combined.

Whisk the flour, salt, soda and baking powder together until well combined.

Add the wet and dry ingredients together and work in the currants. Dough will be stiff enough to roll into balls but be gentle, don't over work. If the dough seems to stiff a bit of milk can be added.

Shape the dough into a flattened ball, wrap in plastic wrap and refrigerate for 3 hours, up to over night.

Preheat your cast iron skillet on med-low. If it is properly seasoned won't have to brush with oil.

Roll out on slightly floured surface or between two pieces of wax paper, to about 1/4 inch thick. Cut with biscuit cutter.

Fry for approximately 3 minutes on each side or until golden brown.

Can be eaten plain as a cookie, served with butter, curd or even fresh diced fruit and whipped cream.
Picture
and recipe above were adapted from the following web site:
http://www.thefreshloaf.com/node/11821/welsh-cakes-la-grandma-aka-welsh-cookies-recipe
Don't stop with just munching on these little delights (although I don't know how you can stop). You can make delish deserts from these little gems like the one below:
http://planetden.com/food/swansea-means-welsh-cakes